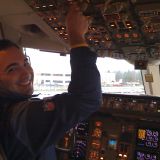 eric dufay
| | |
| --- | --- |
| Member since | |
| Last seen online | |
| Language | English (USA) |
Submitted
Looks like a King Air has crashed into the Flight Safety building in Wichita (
www.kake.com
)
More...
Submitted
The Airbus A330neo, already on order, might have range to make new long-haul routes feasible, CEO says (
www.wsj.com
)
More...
Submitted
JetSuiteX will begin flying public charter flights from Santa Monica Airport (SMO) in Southern California starting on February 6. The flights will be scheduled twice daily—in the morning and evening—on Mondays, Tuesdays, Thursdays and Fridays, and will connect Santa Monica with McClellan-Palomar Airport in Carlsbad, California, near San Diego, and Mineta San Jose International Airport in the San Francisco Bay area. Service will also be available to Las Vegas beginning February 10, with a Friday… (
www.ainonline.com
)
More...
Submitted
Hawaiian Airlines plans to begin flying from New York this summer, marking the Honolulu-based carrier's first-ever push into the U.S. East Coast. (
travel.usatoday.com
)
More...
Submitted
JetBlue today announced it has bought a portion of JetSuite, a private jet charter company. (
skift.com
)
More...
Submitted
The Detroit Pistons charter flight had declared an emergency for their landing in HOU. Everyone on the plane was fine, and it appears that the passengers didn't even know about the emergency. (
www.chicagotribune.com
)
More...
Submitted
A partnership between the University of Nebraska Omaha's aviation institute and local charter company JetLixs is paying off for both. (
www.omaha.com
)
More...
Submitted
Very long day of flying for the Global Hawk. Very cool if your check out the flight log. Speed of 388kts a few times and 65,000ft. Very cool. (
flightaware.com
)
More...
Submitted
Delivering a single dose of COVID-19 vaccine to the world's 7.8 billion people would fill 8,000 Boeing 747 cargo aircraft, according to the International Air Transport Association. (
www.aviationpros.com
)
More...
Submitted
Less than a year after Qatar Airways dropped its plan to buy as much as 10% of American Airlines, it is making a "significant" undisclosed investment in JetSuite, Inc. The additional funding will power expansion of both JetSuite, which sells jet cards and on-demand charter and its newer JetSuiteX subsidiary, which sells single seats on scheduled public charter flights. Those flights operate between private jet terminals cutting travel time for passengers by 90 to 120 minutes. Qatar Airways joins… (
www.forbes.com
)
More...
Did you know that FlightAware flight tracking is supported by advertising?
You can help us keep FlightAware free by allowing ads from FlightAware.com. We work hard to keep our advertising relevant and unobtrusive to create a great experience. It's quick and easy to
whitelist ads
on FlightAware or please consider our
premium accounts
.